This article talks about best kotlin books to refer, when you aspire to become an efficient Kotlin programmer. Like every other programming language, Kotlin has some pre requisites. Before we choose a book, let's have a look at what about parameters you should keep in mind before finalizing the one which would help you ace the perfect skills:
Fundamentals of Programming: First and foremost comes your expertise in logic building or basic understanding of programming. If you are fundamentally clear you can pick up books which focuses more on Syntax and takes the advance approach.
Understanding of OOP's: The next most important thing is your expertise and understanding of OOP's. If you are familiar with these, you need to choose a book which qualifies with the advanced concepts of OOP's and how kotlin uses them.
Your hands on with Java: If you have the slightest idea of Kotlin, you would be aware that it uses JVM for compilation. So having hands on Java leaves you in very good and stable position which will enable you to learn the syntax and get started with it directly.
Expectation/ Outcome: Next point comes what you want to achieve out of the training. If you want to use Kotlin as a standalone language or you plan to develop android using Kotlin.
Based on the parameters above, we have shortlisted certain books for you which you can to start your journey with Kotlin.
5 Best Kotlin Books
"Kotlin in Action" can be considered as on the best and most recommended to be referred when learning Kotlin. The book is authored by developers from the Kotlin team of Jet brain (company that has developed the language) Kotlin developer Dmitry Jemerov and Svetlana Isakova.
As we described the shortlisting criteria above, this book is the perfect read if you have knowledge about Java and wish to start learning Kotlin now. The book starts with the overview of Kotlin syntax and makes an assumption of readers being well worse with the concepts of Java and Object Oriented Programming (OOP's). This book can be referred as "Kotlin for Java Developers" and very much it serves the purpose. The book explains the concepts of Kotlin and Java in a concise way making it easy for the developer to easily toggle between the two. If you are a beginner to programming and plan to use this book, it's not a good idea to jump start the book.
As every coin has its flip side, the only demerit which comes along is the version. Though the book can be bible for Java developers wishing to jump into Kotlin but the version it refers is a bit old. As the language is new and is updating itself, it becomes very difficult to keep the printed book updated. Like every other language, merely reading a book to learn programming is like watching a fish to learn swimming.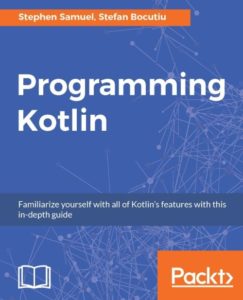 Programming Kotlin authored by Stephen Samuel and Stefan Bocutiu is a great insight for developers who want to use Kotlin as a backend language (both of them are seasoned developers). The book offers an in-depth guide into Kotlin. The book offers a comprehensive guide into understanding the concepts of null safety, lambda expressions, higher order functions which will enable you to write clean, structured and object oriented code.
Follow this book if you wish to write production ready code. The book will offer a great insight into the null-safety by covering the ways and techniques to avoid Null Pointer Exception.
Here's below the sequence in which the content is covered in the book:
As expected the book will start with basics, making user comfortable with Kotlin code, setting up of development environment, getting used to tools and most important the "Hello World!" program in Kotlin. Post these basic discussions, the book covers the object oriented aspect of Kotlin including but not limited to functions, lambdas and properties.
As described earlier this book is focused on the web development aspects and hence covers the details of Null Safety aspects along with type parameterization. Concepts which are required to be used in making scalar applications grow like concurrency are also covered in detail. The book also insights into micro services and testing.
As aimed and as propagated, you can build production ready server side applications at the end of your journey.

"Kotlin for Android Developers" authored by Antonio Leiva is a must read for all aspiring Android engineers who want to start developing Android application from ground using Kotlin. A to the point approach which skips beating about bushes and focuses on teaching development of Android applications using Kotlin.
The entire book has many projects which are started from sratch and use Kotlin as the primary and only language. The idea that book captures is to learn while developing applications. This book is recommended by Google and Jetbrains. It captures the new features which are present in Kotlin which were missing in Java in simple, concise and fun way.
The book boasts of learning by example rather than following a typical structure of theories. At most places where a conflict occurs in between Kotlin and Java, the authors pauses and explains those concepts comparing with Java 7. This approach speeds up your learning and expedites the understanding. The book has examples of issues which developers face on daily basis and shows the use of language expressions and libraries which ease the development effort.
To sum up, the users are recommended to follow the examples as you proceed and code the examples directly on the system. The more you try everything, the better understanding you would have. Still if you wish to get a first-hand idea, you can read at first to get the broader idea and then start practical examples with hands-on practice.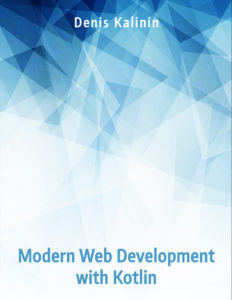 If you aspire to use Kotlin for web development, this book can definitely help you. Written by Denis Kalinin,the book starts with the basics of Kotlin which are covered in the first chapter itself. The main aim of the book is to make developers well verse with the aspects and concepts to build a power packed Web application. The book "Modern Web Development with Kotlin" is mostly about web development with Kotlin language. The main focus of the book is on the practical aspects of kotlin though it also covers the information or knowledge needed to get started.
The book also explores the uses of Kotlin on the top of Vert.x and working with databases. It's a complete SDLC refresher with topic coverage of testing and deploying codes. The book also offers integration with Webpack, EcmaScript 6, Sass and the popular React.

Kotlin Blueprints is for programmers who are familiar with the concepts of Kotlin. The book offers a packed practical guide for readers and provides resources needed to build industry grade web applications. It discusses the various aspects that are provided by the Kotlin language. At end as every programmers dream, readers would be able to develop a social media aggregator which would track feeds using Kotlin and Spring boot.

The above recommendation is for most languages and all books.
These were most of the books which would come handy if you wish you learn Kotlin and develop Android applications, try the books 1 to 3. However if you wish to put Kotlin to use for Web programming, you can refer the books numbered 4 and 5.